On the 19th of January human rights defender Arthur Sakunts posted on his Facebook page: "Reliable sources informed us that cracks have appeared on the tailing dam in Teghut. As a result, tailing wastes have been leaking into Debed River for at least 4 days now. This can turn into a serious ecological disaster and can also have cross-border consequences considering that Debed River flows to Georgia. Moreover, some sources inform that law enforcement authorities are involved in the efforts of preventing leakage of information regarding this disaster".
State authorities and "Vallex" mining company remain silent; there is no information about what has happened at the mine during the past few days or what is happening there right now. However, according to the information we have, the problems are so grave that mine exploitation has been halted for several days already. We also received a video (of January 19) and photographs which show toxic wastes flowing from the Teghut mine area.
From the earliest days of the introduction of the Teghut mining project, professionals and ecologists have been warning that this mine should not be permitted whatsoever. Each and every state official who approved the mining permissions is well aware of the fact that they have authorized an ecological crime. Numerous evidences of environmental pollution and destruction have been documented during the past 4-5 years, which confirms the worst predictions of ecologists – destruction of hundreds of hectares of centuries-old virgin forest, failure of the project to plant trees on another location as a compensation, pollution of Shnogh River with heavy and dangerous metals, continuous leaks from the improperly designed tailing into the environment, etc. Recently, the uncontrolled release of polluted waters directly into Debed River worsened the situation.
Back in April 2016, the research and findings of World Bank contracted Swedish experts confirmed that all tailing damps in Armenia (including the one in Teghut) are built with faults, and fail to correspond to international safety standards of tailing damps.
On the 16th of October, 2017, Danish Export Credit Agency officially announced that together with PensionDenmark private pension fund it stops the 62 million USD loan provided in 2013 to "Vallex" group through VTB bank for exploiting the copper-molybdenum mine in Teghut. In its announcement EKF refers to the same problems – water pollution, problems with the tailing dam, and poor working conditions at Alaverdi copper smelter.
In his Facebook post human rights defender Arthur Sakunts also mentions: "Those who gave permissions to construct and exploit the mine in Teghut, those who were responsible for overseeing the construction process, the Ministry of Nature Protection, the Government – all of them have to urgently provide the public with information regarding this issue. We have the right to know what size of pollution we face, what harm is caused to the environment as a result of those tailing leaks, and finally how this can impact public health. They must also inform us about preventive actions as well as let the public know how to avoid possible poisoning."
Once again, we witness inaction of the state authorities and their indifference to the numerous alarms regarding ecological problems. The sphere of mining industry seems to be out of the scopes of the law and goes with impunity. Only once serious problems occur do state bodies take some cosmetic measures.
There have been numerous alarms regarding ongoing problems at Teghut mine; however, no productive steps have been taken. This is reflected in the negligent response of Armenia's Ministry of Nature Protection to our recent letter addressed to the Government.
We call on state bodies to come to senses, to stop the pollution of this country's nature, waters and soil, and to protect everyone's right to live in healthy environment. No new metal mine should be exploited in Armenia as long as they threaten the few remaining ecologically clean areas. We call on to inflict strict fines on the mining company in Teghut and make a decision to close the mine and rehabilitate the area with the means of the company.
Armenian Environmental Front (AEF) civil initiative
Email:  armecofront@gmail.com

Shnogh river, 19.01.2018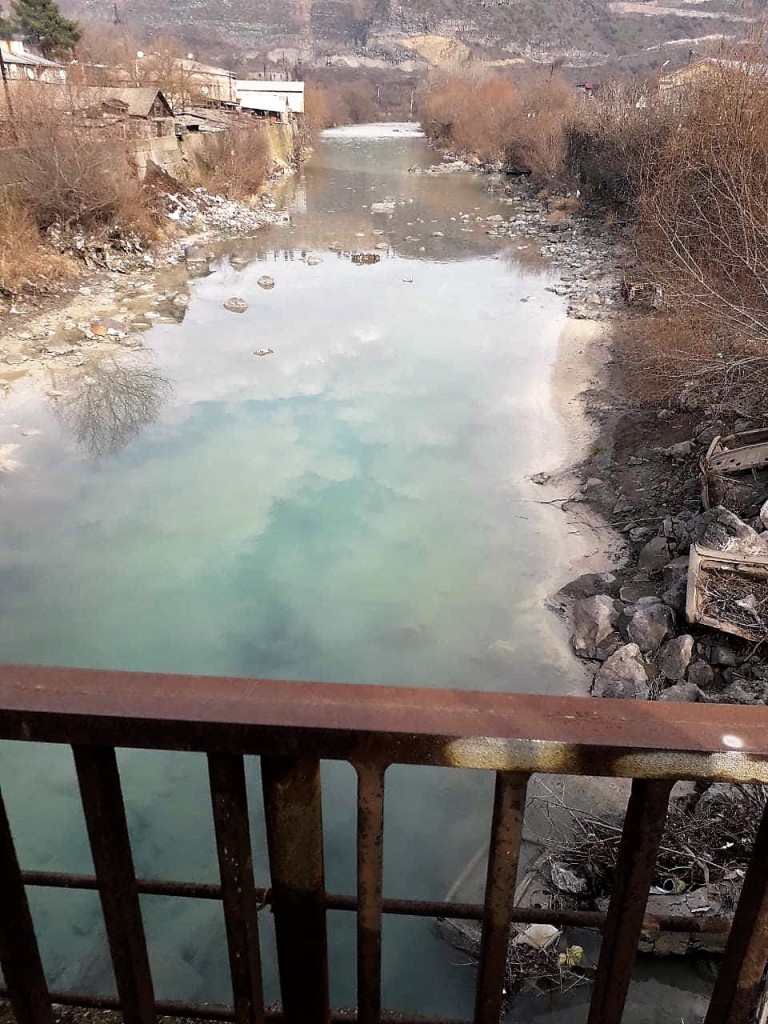 Debed river, 19.01.2018